When your setting up a wireless network for maximum range, the wifi antenna cable becomes very important. This is because most of the time your access point or other wireless device will be located inside the building but the antenna must be mounted outside where it is providing maximum coverage and free from obstructions.
A good way is to set up your equipment up as close to where your antenna will be mounted as possible. In some cases it is preferable to mount the device in a weatherproof enclosure with the antenna or in the ceiling space just below the antenna. This configuration is optimal as it minimizes cable losses.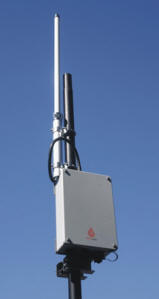 Where your cable length can be kept at reasonable length (around 10m/30ft or less for LMR-400), it may be easier to run a low loss coaxial cable. These cables generally have an 'N connector at each end. You will just need to make sure of the gender of the N connector on your antenna and the N connector on your pigtail to select a suitable cable. Most wireless devices have a very small connector and a pigtail is required to convert from this connector to an N type.
pigtail adapter to connect your wireless device to the N connector on your antenna cable
Low loss antenna cable with N type connectors
It is important to keep the antenna cable as short as possible even when using very high grade cable. As you can see from the chart below, the 2.4GHz frequency degrades a lot more than lower frequencies along the cable length.