I have been asked "what is WiFi" by several people after I tell them what I do so I thought I would put my standard answer into a post for others who may be thinking the same thing.
Wikipedia also has an entry on the what is WiFi question.
WiFi is basically a term for the set of guidelines which allow interoperability among various wireless networking products from different manufacturers. This set of standards has allowed the use of wireless networks to explode in recent years.
Back in the mid 90's before the official 802.11 standard was ratified, a friend of mine introduced me to some 900 Mhz DSSS (direct sequence spread spectrum) radios. These radios provided a wireless serial link between computers. They cost around $AU400 a pair back then but they were extremely useful devices 🙂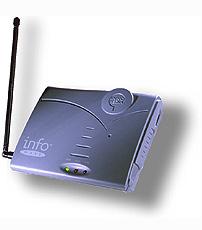 Infowave wireless modem
Out of the box, these units allowed a connection of a few hundred feet or so, but once modified to accept external directional antenna's we achieved links over 7km. To me this was a very exciting achievement and led to many adventures linking low cost wireless devices using many different antenna combinations.
Of course once the WiFi standard was adopted, prices plummeted. I still remember paying $US600 each for my first few pre-802.11 PCMCIA wireless devices which I had to import directly from the US. These devices didn't come with an external antenna connector so once they arrived, they were quickly dissected and modified.
The longest link I have personally installed was 38km, over Port Philip Bay. We were using the old trusty Linksys WAP11's (same functionally as Dlink DWL-900AP) flashed with Dlink firmware and Hills 25dB parabolic grid antennas. The link was a little sketchy with a lot of duplicate packets (I assume from the reflections off the water) but it worked!
Linksys WAP11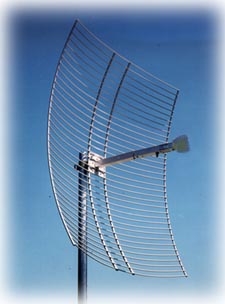 Hills 25dB grid antenna
These days the equipment is much better and devices can be found with very good receive sensitivity. This is very important in establishing links greater than a few km's.
So in a nutshell, WiFi devices are very cheap now with some having very good receive sensitivity. Good antenna's can also be found at similarly low prices, so what are you waiting for?
Here is a list if what you will need to set up your own long range WiFi link.
wireless device with external antenna connector (RP-SMA)
pigtail adapter (RP-SMA to N type)
low loss antenna cable (N type to N type)
directional antenna (N type)
Please let me know how you go.