One of the biggest drawbacks of using wifi is that wireless range is usually limited to about 100 metres or less. I guess this is a lot better than being tethered to a cable but now that we have a little mobility, we want more!
The 2.4Ghz frequency that a typical wireless network uses does not like going through objects as much as lower frequencies do. So things like walls and other obstacles quickly dissipitate the signal.
You can greatly improve the range of a signal by using an external antenna. Most laptops these days come with internal wireless cards which have the antenna routed around the LCD screen. So unless you want to make hardware modifications, or fiddle inside your laptop, rules out using an external antenna.
The answer is to use a USB wireless device. Choose one that has an external antenna connector which will give us the ability to really improve the range. Even the supplied 'rubber duckie' type antenna included with these devices is a great improvement over the standard internal PCB type antenna.
I picked up a cheap device on eBay a few weeks ago for under AU$25.00 delivered to my door. I don't know they do it and it makes me relieved I got out of the wireless hardware business!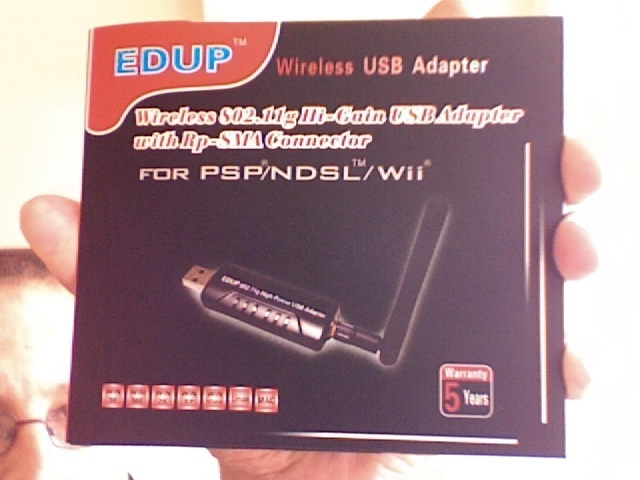 (Please excuse the pics as they are taken with my MacBook and SE K800i Phone)
This device comes with Windows and supposedly MAC drivers but I used ZyDAs drivers on my MacBook which seemed to do the trick. The range with it plugged in is a lot better than with the internal MacBook airport card but the real advantages will only be seen once we plug an external antenna into the RP-SMA connector on the USB stick.
OK, now the part that makes all the difference. We need to use a pigtail. This is a short cable that plugs into the RP-SMA port on the USB stick and converts it to a standard N type connector. The N connector is what is used on most 'real' antenna's due to it's low-loss characteristics.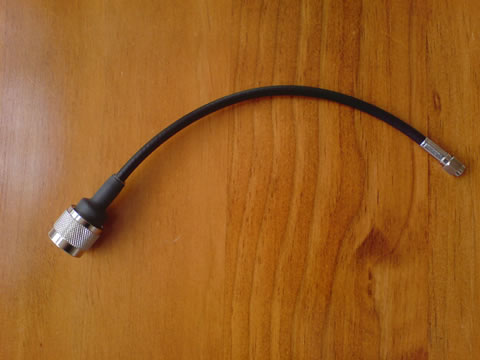 Now we have a standard N male connector which we can connect to a small directional panel antenna. As soon as you use a directional antenna you will notice huge improvements in range, This is because you're doing away with a lot of noise coming from the other directions you are no longer receiving. So the more directional the antenna the better the range (providing you have the antenna aligned).
Now we are all set, you will see huge gains in signal strength which will provide far better coverage than the internal type antenna found on most laptops.